8 Tips to Save Money on Part D Drugs
Key Takeaways
Compare co-payments, deductibles, limits, and formularies to select a cost-effective Medicare Part D plan.

Minimize prescription costs by consulting your primary prescriber to discuss low-cost generic medicines instead of pricey brand-name drugs.

Conduct a broader search for network pharmacies to pay less.

Save money on Medicare Part D Drugs via mail-order delivery, cash discounts, coupons, and online pharmacies.

Ask for financial assistance from national and local charity programs that support treatment for certain diseases.

Check eligibility for a pharmaceutical assistance program to save up on brand-name drugs.

Search for state pharmaceutical programs to reduce medication costs.

See if you qualify for the Extra Help program to save money on Part D drugs.
Does a New Year mean a new plan for Medicare beneficiaries?
The answer depends on your unique medical needs and specific plans.
According to the Kaiser Family Foundation report, nearly 49 million Americans are enrolled in Medicare Part D plans. For some beneficiaries, the monthly $35 cap on insulin under Part D and free vaccines are a relief.
The rising drug prices and the dreaded Medicare coverage gap (aka the donut hole) often put limitations. It's why our experts advise beneficiaries to review medication costs and streamline spending to save money on Medicare Part D drugs.
Our article shares practical advice on ways to reduce medication costs.
Continue reading to learn more.
1.  Choose a Cost-Effective Medicare Part D Plan
Medicare offers various Part D plans (PDPs), each with individual costs and coverage gaps. You can save hundreds and sometimes thousands of dollars if you thoroughly research and compare options before enrolling in a plan.
Here are a few things to consider:
Every plan has different monthly premiums, annual deductibles, copays (or coinsurance), and coverage gaps. You can pay the lowest possible copayment by selecting a PDP that provides prescription coverage for your current drugs.

Note that plans with higher deductibles often prove more cost-effective, so avoid focusing on premiums and deductibles. Look at the combined cost instead to make a cost-effective choice.

Save money on Medicare Part D drugs by applying for a PDP that offers coverage for generic pills to minimize out-of-pocket medication costs.
Lastly, CNBC reminds beneficiaries to review their current Medicare Part D plan formularies. A formulary splits prescription drug coverage into different tiers. The first tier costs less, while drugs in the fifth tier are relatively more expensive. Medicare shuffles "various drugs from one tier to another" yearly.
That means your current prescription is not on a low-cost tier in the coming years. Constant vigilance will help you secure better coverage annually.
If you're looking for advice, consult a local Medicare agent to find the right plan.
2.  Consult Your Prescriber to Create a Cost-Effective Prescription Plan
You can often swap expensive brand-name drugs for generic or lower-cost alternatives. The switch can significantly reduce monthly medication costs if you know where to look. It's best to discuss prescription costs honestly with your doctor and ask them for advice on reducing expenses by prescribing alternate pills.
Aside from switching drugs, you can also ask your physician to review your current prescription and eliminate unnecessary medication. These changes will lessen the financial burden on your healthcare bills.
3.  Shop Around for Pharmacies to Find a Pocket-Friendly Option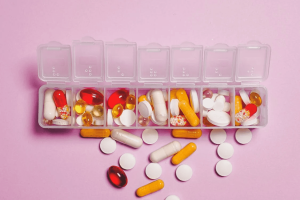 Your local pharmacy might be a better choice for medication bills. They may charge more than the competition. They might also not be part of the "preferred" pharmacy within the PDP network which allows them to raise drug costs without checks and balances. 
More importantly, you can save more by choosing an independent vendor or small pharmacy inside a supermarket rather than a pricier chain store. These vendors often negotiate deals with pharmaceutical companies and distributors, allowing you to pay less for prescribed drugs.
Compare prices of local and online pharmacies to pick a vendor that sells your current prescription drugs at the lowest price.
4.  Become a Savvy Shopper by Using Mail Order, Discounts, and Online Pharmacies
Mail orders are an excellent way to save money on Medicare Part D drugs. According to Diatribe, you can order a 60-90 day supply at a discounted price with the assistance of your insurer. Beware mail order deliveries can take a couple of weeks.
Online pharmacies and discount cards can be more feasible if you need an urgent delivery or lower supplies. They might offer you a better deal with discount coupons and loyalty cards.
Use digital resources like GoodRx to compare prices of brand-name alternatives and generic drugs and access discount coupons to save more. Also, check the FDA's BeSafeRx guide to find a licensed US-based vendor for your prescription.
5. 
Save Money on Part D Drugs with the Help

of National and Local Charity Programs
If the Medicare Part D plan fails to cover your medication costs, you could seek assistance from national nonprofits and community charity organizations. Many organizations provide prescription coverage if you can't afford treatment for rare diseases or age-related disorders.
The National Council on Aging, the National Organization for Rare Disorders, National Patient Advocate Foundation, and The Benefits Checkup are a few organizations that can help you cover medication costs for specific diseases.
6.  Search for State Pharmaceutical Assistance Program
The State Pharmaceutical Assistance Program can provide prescription coverage if you meet their criteria. Many programs cover medication costs, PDP premiums, and other expenses for eligible beneficiaries. Use the official Medicare.gov website to check if your state offers an assistance program.
7.  Sign Up for a Pharmaceutical Assistance Program
If your state doesn't offer an assistance program, you can seek help directly from the source. Some pharmaceutical manufacturers provide free prescription drugs and discounted rates for eligible Medicare beneficiaries. You can fill your prescriptions through them to receive specialized medicines at lower costs.
Visit the official Pharmaceutical Assistance Program page for more information.
8.  Apply for the Extra Help Program to Minimize Costs
 Medicare beneficiaries with low incomes and healthcare resources can apply for the Extra Help program offered by Medicare and Social Security. The program reduces medication costs by asking qualified beneficiaries to pay only $4.15 for generic drugs and $10.35 for brand-name-covered drugs. To apply you can simply go to the official social security website or You can call   1-800-772-1213 (TTY 1-800-325-0778) to apply over the phone. You can also request a paper application, or you can schedule an appointment to apply at your local Social Security office.
Check here to see if you meet the criteria.
Are You Looking for More Information?
Contact your local Medicare agent to learn about more ways to save money on Medicare Part D Drugs.  With the rising cost of drugs we spend many hours researching ways to help our clients lower their out of pocket drug costs. To get help with your part D questions just give us a call 631-358-5793 or email us at medicare@162.240.231.225.