If you were denied coverage for a health service or item, you can request a review of the decision made by Original Medicare, Medicare Advantage, or Part D plan. This formal request for review is known as an appeal. Prior to submitting your appeal, be sure to thoroughly read any letters or notices you have received from Medicare and/or your plan.
When writing your appeal letter, it is important to address the reasons for denial stated by Medicare or your plan. If possible, you can also include a letter of support from your doctor to strengthen your appeal.
If you feel overwhelmed with the Medicare appeals process or don't understand how to do it, it is better to consult a licensed Medicare insurance agent who can help you understand the intricacies of the process. Here's everything you need to know.
Original Medicare Appeals Process
If you are covered by Original Medicare and have been denied coverage for a health service or item, you can submit an appeal by following these steps. Firstly, check your "Medicare Summary Notice" (MSN) and note the deadline for filing the appeal. Even if you have missed relevant dates, you may still file an appeal if you can give solid reasons for missing the dates.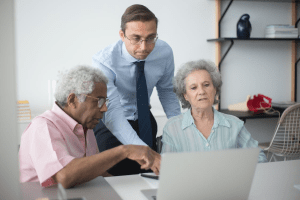 To file an appeal, fill out the Redetermination Request Form and send it to the relevant authority. Alternatively, you can send a written request to the same address listed in the information section of the document and include the requested info.
When You Decide to Appeal
When facing a decision you disagree with regarding your Medicare coverage, don't hesitate to appeal. Gather relevant information from your healthcare provider to strengthen your case. Check your plan materials or contact your plan for appeal rights details. You can typically find your plan's contact information on your membership card or through a search.
The Medicare appeals process consists of five levels, providing you with options to escalate your case. If you are unsatisfied with a decision at any level, you can proceed to the next. Each decision letter will include instructions on how to move to the next appeal level.
Get Help from Expert Medicare Agents in Melville 
Facing challenges with your Medicare appeal? Our expert agents at The Modern Medicare Agency are here to help you throughout the process. From gathering crucial information to guiding you through each appeal level, we've got you covered.
Don't go through it alone; let our knowledgeable Medicare insurance agents assist you in getting the coverage you deserve. Contact us now to experience personalized support during your Medicare appeals journey.