Whether you label it a checkup, a physical, or a wellness exam, your yearly visit to the primary care physician stands as the frontline of proactive health care. While many individuals seek medical attention only when symptoms arise, making the first move by visiting even when you're feeling well is crucial to nurturing your well-being and identifying potential concerns early.
Whether you're new to Medicare or have been enrolled for years, embracing wellness visits offers a significant pathway to enhancing your overall health. Let's examine how Medicare wellness visits help you stay proactive in your health journey.
Exploring Medicare: From the Welcome Visit to Ongoing Wellness
When you step into the world of Medicare, a valuable perk awaits the complimentary "Welcome to Medicare" visit. This initial visit should be scheduled within your first 12 months of enrollment in a Medicare plan.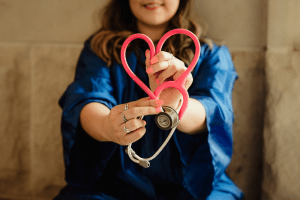 After the inaugural "Welcome" checkup (and once you've crossed your initial 12 months), a door to regular wellness opens up. Now, as a Medicare member, you gain the privilege of an annual wellness visit with your primary care provider. These appointments hold significance not only for your well-being but also for your healthcare provider.
Maximizing Your Medicare Welcome Visit: What to Expect
You only get this opportunity once and need to schedule it within the first year of your eligibility. During this visit, your primary care provider will perform the following:
Review your medical and family history.
Administer depression screening.
Ensure your safety by assessing your mobility.
Record your height, weight, vision, and BMI (body mass index)
Provide education about your health conditions.
Offer referrals to specialists for any specific concerns.
Address end-of-life planning discussions.
Unlocking Wellness with Medicare: Your Comprehensive Annual Visit
Your yearly appointment with your primary care practitioner is a vital step in your healthcare journey. However, if you're a Medicare recipient, the annual Medicare wellness visit carries equal significance. This wellness appointment, accessible every 12 months, arrives free of charge and provides a pivotal chance to interact with your medical professional regarding your well-being management.
During this visit, your provider will:
Revise your medical and family history details.
Compile your healthcare providers and equipment info, updating the list annually.
Evaluate your cognitive functions, encompassing memory, logic, or emotional well-being.
Conduct a safety assessment to ensure your self-sufficiency.
Measure your physical and vital signs.
Provide insights about your prevailing health conditions.
Request crucial screening tests.
Direct you to specialists if concerns arise.
Design a future screening test timetable.
Outline factors that pose risks and recommend addressing them.
Dispense individualized health guidance based on collected data.
Choosing The Right Medicare Plan
Before scheduling Medicare wellness visits, it is important to choose the right Medicare plan for your unique needs and circumstances. Therefore, it is crucial to work with a licensed Medicare insurance agent who can help you select the right plan.
For assistance in your decision-making process, reach out to licensed agents at The Modern Medicare Agency. Covering Melville and nearby areas, our skilled team ensures the best Medicare plan for you.
Contact us now to learn more about our exceptional services.