Medicare Supplement Plans, or Medigap plans, are policies that help ‌pay for the deductibles and coinsurance of your Medicare expenses. These plans are popular with people who want very little or no copays.

Medicare covers only 80% of Part B expenses, meaning that the 20% you have to cover can have devastating consequences in the event of a severe illness.
Reducing the Cost-Sharing Responsibility of Medicare with Medicare Plan G
You can eliminate the 20% cost-sharing responsibility by choosing a Medicare Supplement plan. Several plans can help reduce the cost-sharing burden. One of the most popular is Medicare Plan G, available in all states and from several companies, covering the same standardized benefits.
At The Modern Medicare Agency, we help explain how you can effectively cover the gaps in Original Medicare by answering all your questions. Therefore, let's take a close look at Medicare Plan G and some of the most frequently asked questions people need answered. 
The Most Common Questions About Medicare Plan G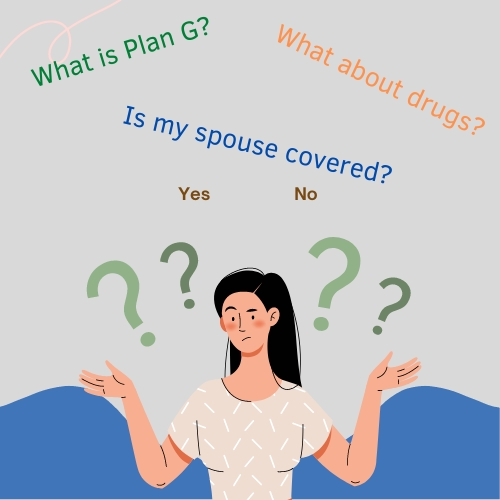 What is Medicare Supplement Insurance?
Shortly after the signing of the Medicare law, insurers created Medicare supplements to help people cover some costs, including 20% of outpatient expenses. Medicare Supplement Plans, like Medicare Plan G, help reduce the stress over medical expenses.
Some of the primary advantages of a traditional Medicare Supplement policy are
     

The freedom to choose doctors, and hospitals

     

See a specialist without a referral

     

Predictable out-of-pocket expenses for Medicare-covered services – Plan G has very little out-of-pocket expenses

     

You can use them anywhere in the United States

     

Guaranteed renewability, meaning that the insurer can't change your coverage or refuse to cover you due to a change in your health
What is Medicare Plan G?
Medicare Plan G makes up one of 10 Medicare Supplement policies. It helps to reduce the out-of-pocket expenses created by ‌coverage gaps in Original Medicare, Parts A and B. In addition, it is considered the most comprehensive policy, even though you still have to pay the Medicare Part D deductible of $226 for 2023.
Many people consider getting a Plan F when researching Medicare Supplements because it covers the Part B deductible, but these plans tend to have a higher cost. Therefore, even after paying the deductible, Plan G remains the most effective option, making it a popular choice.
Additionally, if you only became eligible for Medicare from 2020 onward, you don't qualify to get Plan F, meaning that Plan G provides the most comprehensive coverage.
Do You Need a Separate Drug Plan?
Yes, Medicare Supplement plans do not include Part D, and you will need to purchase a standalone Part D drug plan to cover your prescription medications.
How Does Medicare Plan G Work?
Your Plan G is a supplemental policy, not your primary coverage. However, it fills in many of the gaps in your Medicare policy. You're Part A or Part B benefits will pay for the health services you need, and then your Plan G policy covers most of the remaining costs.
Plan G is very easy to explain, it will cover 100% of your part A hospital deductible and 100% of your part B coinsurance. You will only be responsible for your Part B deductible, which tends to change from year to year in 2023, it will be $223.
Anyone with a disability or over 65, enrolled in Part A and Part B of Medicare, can have Plan G.
What Does Medicare Supplement Plan G Cover?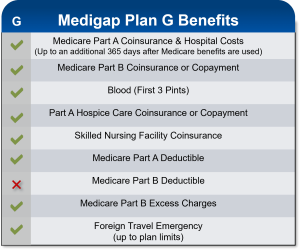 You can expect Plan G to cover the following:
     

Medicare Part A coinsurance and hospital costs

     

An additional 365 days of hospital care coverage after ‌your Original Medicare benefits are exhausted

     

Medicare Part B coinsurance or copayment

     

First 3 pints of blood

     

Hospice care coinsurance or copayment for Part A

     

Coinsurance for skilled nursing facility care

     

Deductible for Part A

     

Excess charges for Part B

     

80% of a foreign travel emergency
As mentioned above, Medicare Plan G does not cover your Original Medicare Part B deductible. For 2023, the amount it won't cover is $226. Therefore, you pay for medical services, e.g., outpatient care, some preventive care, and ambulance services, until reaching the deductible amount. After that, Medicare covers your health care costs.
How to Choose A Plan G Provider?
Medicare Supplement plans, including Part G, have a standardized format with all insurers, meaning you get the same benefits from all providers.
You also don't need to worry about the insurer having a different doctor's network because their plans supplement Medicare Parts A and B coverage. Therefore, you have access to the nationwide Medicare network of doctors. Finally, you will not need to complete any additional paperwork to get your claim approved. All Medicare Supplement claims go through an automated process. The provider pays the amount owed according to Medicare instructions in a standardized and efficient system.
Choosing Medigap or Medicare supplemental carriers comes down to a couple of things. Price is always one, but keep in mind that many carriers have great introductory rates but have higher rate increases than others. Therefore, price and rate stability go hand in hand. 
Carrier ratings are something I keep an eye on, it's always nice to go with name-brand recognition and financial stability. Lastly, customer service is also essential. As an agent, I want the easiest company for me and my clients to deal with in case of any issues. 
What Won't Medigap Plan G Cover?
Medigap Plan G will not cover routine dental, vision, or hearing checkups and services. In other words, they will not pay for any services already excluded from your Original Medicare coverage. However, some Medicare Advantage policies may cover acupuncture, dental care, and cosmetic procedures. As a simple rule your Medicare Plan G won't cover anything that original Medicare does not cover.
Can someone have Medicare Advantage and Medicare Plan G?
Medicare Advantage is offered through private insurance like Medigap. However, unlike Medigap, Medicare Advantage is a substitute for Original Medicare, covering Medicare Part A and B needs. Therefore, people with a Medicare Advantage plan can only get Medigap insurance if they switch back to Original Medicare. (So no, you can't have both types of coverage).
How Much Does Medicare Plan G Cost?
On average, a 65-year-old can expect to pay a premium of $145 monthly for Medicare Plan G. Unless you live in N.Y., plan G  prices are $290 and up. Prices will differ because insurers use different pricing methods. Other factors that affect the prices of Medicare Plan G include age, gender, health, and location. Before deciding on a Medicare provider, compare their rates to ensure you get the best possible one. You should also be aware of rate stability, meaning rate increases some insurers have low intro rates but tend to have high increases. A good Medicare broker should be able to tell you which carriers to avoid.
When is the ideal Time to Buy a Medicare Plan G Policy?
Most private health insurers carry Medicare Plan G Supplement policies, including Aetna and UnitedHealthcare. Before deciding which company to choose, make sure they provide a plan that matches your needs. Also, compare prices to ensure you get a reasonable rate.
You can enroll in Medicare between three months before turning 65 and up to three months after unless you have a disability and qualify to get it earlier. This open enrollment period is the best time to purchase a Medigap plan, no matter your health status.
At the time of the open enrollment period, regardless of your health, Medigap companies must sell you a policy at the best possible price and cannot deny you coverage. Several factors determine the best available rate, including age, gender, marital status, whether you smoke, and where you live. 
You can check with your SHIP to ensure you get the best rate. Therefore, when you purchase Medigap during your open enrollment period, policies have stringent limits on what they can exclude regarding pre-existing conditions. 
Can people switch Medigap plans?
Every Medigap policy has a guaranteed renewal. As long as you pay the premium, the insurer can't cancel even if you have developed a health issue. Medicare supplement plans can be changed anytime, however, depending on what state you live in, you may have medical underwriting. Here is what happens if you want to switch plans:  
In some states, the legislation makes it easier for people to switch between Medigap plans or for people under 65 to enroll in them. For example, New York and Connecticut have year-round guaranteed-issue.
Guaranteed-issue in Massachusetts lasts for a two-month window between February and March. Switching to another Medigap plan with the same or lesser benefits is allowed for a limited period around the birthday of enrollees each year in California, Idaho, Illinois, Oregon, and Nevada. These are known as "birthday rules," and the plan does not need medical underwriting. 
In Maine, the legislation allows Medigap enrollees to switch to another Medigap plan anytime during the year, as long as it has the same or lesser benefits.
Additionally, carriers must designate one month during the year when people can enroll in Medigap Plan A on a guaranteed basis. Finally, in Missouri, there is an anniversary window for switching Medigap plans known as an Anniversary Guaranteed Window. 
Who Should Have Medicare Plan G?
Anyone who can afford plan G and wants it should have it. While there is no one perfect plan for all Medicare supplements, Plan G certainly has some great advantages for consumers to utilize. Freedom to choose doctors, no prior authorizations or referrals, and of course, cost predictability. You can use your Medicare Supplement plan, like Medicare Plan G, at any nationwide provider that accepts Medicare. Medicare Plans are ideal if you travel a lot or live in more than one state throughout the year. Or if you are chronically ill and have high medical usage. You should keep in mind what state you live in, since many states require medical underwriting after your initial enrollment on to Medicare you may not qualify for coverage if you wait too long. 
Will a Medigap Plan G Cover Your Spouse?
No. Medigap policies cover only one person. Therefore, if you need Medigap coverage like Medicare Plan G for both of you, you must have two separate policies. However, many carriers do offer a household discount.
How to Choose a Provider for Medigap Plan G?
When researching supplement plans and carriers, we highly recommend finding an agent specializing in Medicare in your area to help. Many different rules apply from state to state, and often information online will be very general and misleading. Our team at The Modern Medicare Agency is always licensed and knowledgeable in any area we represent. We work independently with several carriers, and our approach is to help you throughout the process by always being available to take your call or email.
For information on how to find a Medicare Agent in New York, follow this link.