In the heart of America's long-term care system, family caregivers are vital, dedicating their time and resources to support their loved ones. Amidst this important responsibility, Medicare steps in as a valuable partner, offering a range of services to alleviate their intricate duties.
Supporting loved ones isn't just a gesture of affection; it's a fundamental aspect of the U.S. healthcare system. Notably, around 53 million individuals provide unpaid care to family members, partners, or friends aged 50 and above, as per the National Alliance for Caregiving.
Let's take an in-depth look into Medicare for caregivers and how it can aid them in providing the best quality care to their loved ones.
Navigating Caregiving with Medicare: A Comprehensive Outlook
The profound influence of Medicare on family caregiving spans a diverse spectrum, surpassing typical medical assistance. Within this comprehensive coverage framework, Medicare broadens its scope to encompass a variety of services designed to ease the multifaceted burdens of caregivers. This approach highlights Medicare's pivotal role in supporting caregivers as they navigate the complexities of providing care to their loved ones.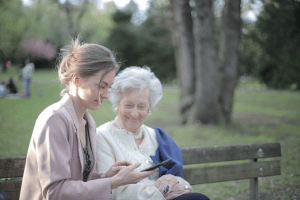 Post-Hospital Care
A crucial aspect of caregiving revolves around post-hospital care coordination. This is where Medicare plays a role, providing coverage for skilled nursing care and physical therapy through Part A. This encompasses semi-private rooms, meals, skilled nursing, rehabilitative services, and medications administered during the stay. These benefits are applicable for short-term stays following a qualifying hospitalization.
Home Health Care Services
Medicare extends substantial aid to caregivers through its home healthcare services. Particularly beneficial for seniors unable to travel for treatment, these services offer a welcome solution. Medicare Part A and Part B cover intermittent skilled nursing care, speech-language pathology, physical therapy, and ongoing occupational services at home. This coverage comes into play when a doctor certifies the necessity of home health care and the patient is homebound.
Supportive Medicare Services
Caring for a terminally ill loved one is a profoundly challenging period. In recognition, Medicare offers comprehensive hospice care for individuals with a prognosis of six months or less. This all-encompassing benefit extends to counseling and social support, aiding the patient and family caregivers.
Acknowledging the need for caregivers to recharge, Medicare includes respite care. Temporary care provided in Medicare-approved settings like hospice facilities or hospitals offers valuable relief to family caregivers.
Prioritizing preventive care is integral to senior health, and Medicare Part B covers a wide range of preventive and screening services. These are pivotal in early detection, helping lessen complications and ease the caregiving role.
Working with an Experienced Medicare Agent
Understanding Medicare for caregivers requires expertise. An experienced insurance agent simplifies choices, helping caregivers understand customized coverage. With their guidance, caregivers can offer comprehensive support for their loved ones' needs.
If you're looking for a top-notch Medicare agent in Melville with comprehensive expertise and experience in the insurance industry, there is none better than The Modern Medicare Agency.
Let our knowledgeable licensed medicare insurance agent assist you in getting the coverage you deserve. Contact us now to experience personalized support during your Medicare journey.